Built on the banks of the Huron River and located 45 minutes west of downtown Detroit, Ann Arbor is a cultural mecca within the Midwest basin. It offers a unique blend of city sophistication and small town charm that appeals to students and professionals, singles and families, newly born and newly retired, alike. It is both ethnically diverse and culturally rich. Just one visit and you will quickly understand why Ann Arbor is consistently voted one of the best places to live in the United States and voted one of the Happiest Cities in America in 2014.
Ann Arbor offers a stimulating cultural environment, albeit with the conveniences of a small town. It consistently ranks among the nations top ten places to live as well as having an excellent school system, diverse recreational opportunities, and is only 25 minutes from the Detroit Metropolitan Airport.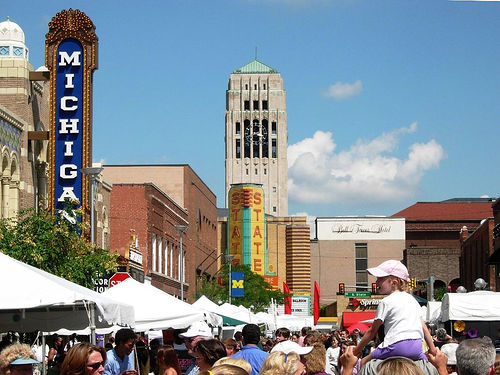 Whether you are coming here for medical care, considering attending the U-M Medical School, thinking about living in the area, or working for UofM, the resources below provide a closer look at what Ann Arbor has to offer.
Visiting Ann Arbor
Attending U-M/Living & Working in Ann Arbor
Michigan Weather
Awards and Accolades